It's often claimed that if family historians look hard enough they will find at least one king, pauper and murderer in their family tree. May be the list should also include bigamist.
Early in my family history research, tracing ancestors along the line of my paternal grandmother, I discovered that my great grandmother (pictured) whom the family had always believe to be Mary Onions, was Mary Onions Davies. Her parents were Sarah Ann Perry and Richard Davies. So where did the Onions name come from? Ann Edge and Ralph Perry had married on 19th April 1857. He was described as 21 year old widower, she a 23 year old spinster.
Ralph had married Sarah Brereton in 1855.
The census 1861 record shows Sarah Ann, aged 2 living with parents Ralph and Ann Perry, younger sister Elizabeth and older brother George (born about 1856 in Leeds) in the house of landlady Maria Edge. By 1871 she is living with Thomas and Ann Onions, her mother, and Maria Edge, her grandmother. I naturally assumed that Ralph had died and Ann remarried although I could not find a record of his death.
When I failed to find any record of his death I assumed it was my failing and left it at that for many years.
Recently I resumed my research in an attempt to fill in the gaps, and in particular dates of death. The number of records availalable on line has increased significantly in the last few years and I thought it was worth another try.
My search for the registration of his death turned up an unexpected record of marriage. Ralph Perry, widower, potter aged 32 son of Thomas also a Potter to Isabella Woodmas, 25, spinster, daughter of Edward, an agent , on 1 Sept 1870 at Wolstanton parish church. The age was slightly young but in all other respects this matched the description of Sarah Ann's father, Ann's husband. Could it really be?


A scanned copy of the registry entry for the marriage in 1869 of Thomas Onions and Ann Perry added to the mystery. Although using the name Perry she gave her status as spinster with unknown father. The 1871 census entry leaves no doubt that this is the same Ann Edge, but why would she lie about her status on her marriage to Thomas? Did he know?

I turned my attention to newspapers of the period and it wasn't long before I came across a report in the Brimingham Daily Post of 5th Feb 1874 stated:
Burslem
Bigamy: At Tuesday's police court Ralph Perry was committed for trial at the next assizes, for bigamy. In 1857 the prisoner married Ann Edge, at Stoke Church, and in 1870 he married Isabella Woodwas, at Wolstanton Church. The first wife is alive, and living at Tunstall with a man with whom she has gone through the ceremony of marriage. Mr. Richardson, for the prisoner, said, his wife having left him, he thought he was at liberty to marry again. His second wife was fully aware of his position when she married him.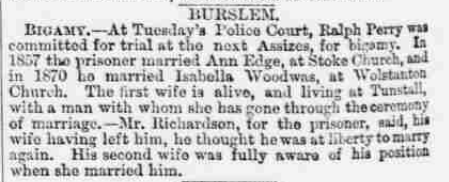 Court documents show that Ralph Perry was convicted of bigamy at the Stafford Assizes on 12th March 1784 and sentenced to 6 months imprisonment.
Then I began to wonder, was he actually a widow when he married Ann or was Sarah Brereton still living. Could he have been a serial bigamist? On 1891 census George Perry gives his place of birth as Swinton, near Rotherham, Yorkshire. A Sarah Perry aged 18 was burried in Swinton on 9th December 1855. This could be George's mother. A birth date late in 1855 is consistent with the other information about him and it is possible that she died while giving birth or shortly after the birth of George. I have found a corresponding general records office index and a copy of her death certicate should provide more information. Something I will follow up later.
There are many unanswered questions: Why was Ralph prosecuted but Ann apparently not? It seems she left him and was the first to "remarry", but I can find no evidence of any case against her even though her identify and location were known. Even if he hadn't known initially, Thomas Onions must surely have found out when Ralph was prosecuted. Could it be that despite Isabella knowing of Ralph's situation when she went through the marriage ceremony she later changed her mind about him, wanted to leave him and reporting him was the easiest way?
Sarah Ann gave her children the middle name of Onions - the name of her mother's illegitimate husband - and not her own maiden name. Did she believe Thomas Onions rescued her mother from a terrible marriage? One interpretation is that she considered Thomas and not Ralph to be her dad. But then again we don't know how old she was when Ann left Ralph, what she had seen or heard for herself or what Ann had told her. Or it might simply be a reflection of how her own husband identified himself. Sarah Ann's husband, Richard Davies was the half brother of Thomas Onions and maybe his family had adopted the name Onions Davies.
I have no evidence but I can't help feeling it likely that Ralph Perry was a superficial charmer who turned out to be terrible husband, maybe a womaniser or worse, a domestic abuser.
I doubt I shall ever know the truth.