Before my maternal grandmother died she told me about the members of her family she knew and could remember. She related interesting tales of feud and reconciliation, entrenched views of status, class and religion. She rattled through her family tree, even producing a chart she had inherited from her cousin who had died a few years earlier at more than 100 years old. She recalled meeting rich relatives - there were twins involved - uncle someone who was something to do with newspapers - in Leicestershire she thought. Then there were all Wilf's siblings, his mother - her mother in law - had been an Irish catholic so there were a lot of them. She didn't know so much about her father in law, Job, except his family hadn't approved of him marrying the Irish woman - she was catholic and he was methodist and a bit more "up market" than her. He'd had a brother, Daniel, - Wilf's uncle Daniel - but all she knew about him was he'd died in the war, the first world war. She thought his grandmother was a performer of some sort - amateur opera maybe.
It was relatively easy to find early records of Daniel - Daniel Cooper. He appears aged 6 months in the 1881 census, taken in April, living at 23 Taylor Street, Goldenhill in what is now Stoke on Trent with his father Daniel, a coal miner, mother Elizabeth and two siblings: Martha 4 and Job (Wilf's father) 2.
Interestingly there is no record of Daniel being baptised or christened until 3rd May1888 when he was baptised at the Chapelry of Lane End, Longton together with three siblings: Mary, Martha and Job. Parent Daniel and Elizabeth. Address given as 6 Catherine Street. Father's trade is given as miner.
Following Daniel through the next two cenus records we easily find him in 1891 aged 10 living with parents at 79 Church Street, Fenton and in 1901, aged 20, with his mother at his sister Mary Cheshire's house. By 1911 the trail appears to have gone cold. Where is Daniel?
The family account is that Daniel was killed in action in Flanders during the first world war and indeed military records show that a Daniel Cooper of the Durham Light Infantry, 13th battalion (Pte Daniel Cooper with serial no. 302789, enlisted in Bolsover) was killed in action on 23 Dec 1917 in Italy although initially it was recorded to have been in France or Flanders. But how could I be sure this is great-uncle Daniel Cooper?
For several years I left it at that, unsure if I'd found him, but in 2018 on the centernary of the armistice I decided that I would resume my search for evidence linking Pte Cooper 302789 to Job and his family. To date he is the only member of my family I know of who fought in the first world war and definitely the only one I know of who was killed in action. If any of the others served in WW1 it wasn't related in family accounts and, other than for Daniel, I haven't yet researched that period.
My grandmother's account never mentioned that Daniel was married or had any children but the military enrolement record for Pte Daniel Cooper 302789 shows that he was married to Ethel Gardner (marriage 14th May 1907 Rugby register office) and that he had two children (Frederick Daniel b 14 March1907 in Rugby and George Henry, born 1 March 1908 in Peterborough.) However, the forces war records name his parents as Daniel and Elizabeth which is a match but they estimated his date of birth as 1882. The records give his age on sign up on 9th December 1915 as both 35yrs and 1 month and 34years and 1 month. He is recorded as being 5' 6" tall with 35" chest with 3" chest expansion. From the census in 1881 I estimate Daniel was born in late September or early October 1880, so he would have been 35 years old in December 1915.
Signing up in December 1915 meant that Daniel volunteered, as conscription was not introduced in the UK until 1916.
Subsequent military records from September 1919 definitevely identify this Pte Daniel Cooper as the son of Elizabeth and brother of Job.
The military records initially recorded that Daniel he was killed in action in France, but France has been crossed out and replaced with Italy.
In what appears to be Feb 1918 the army writes to the Chief Constable of Derbyshire stating that Ethel, his widow, has requested pension for two dependent children but they note that one son was born prior to her marriage to Daniel. However, they had both claimed he was Daniel's son. The acting chief constable replies to confirn that Frederic Daniel was indeed Daniel's son and that the parents married shortly after the birth and Daniel had alway supported him.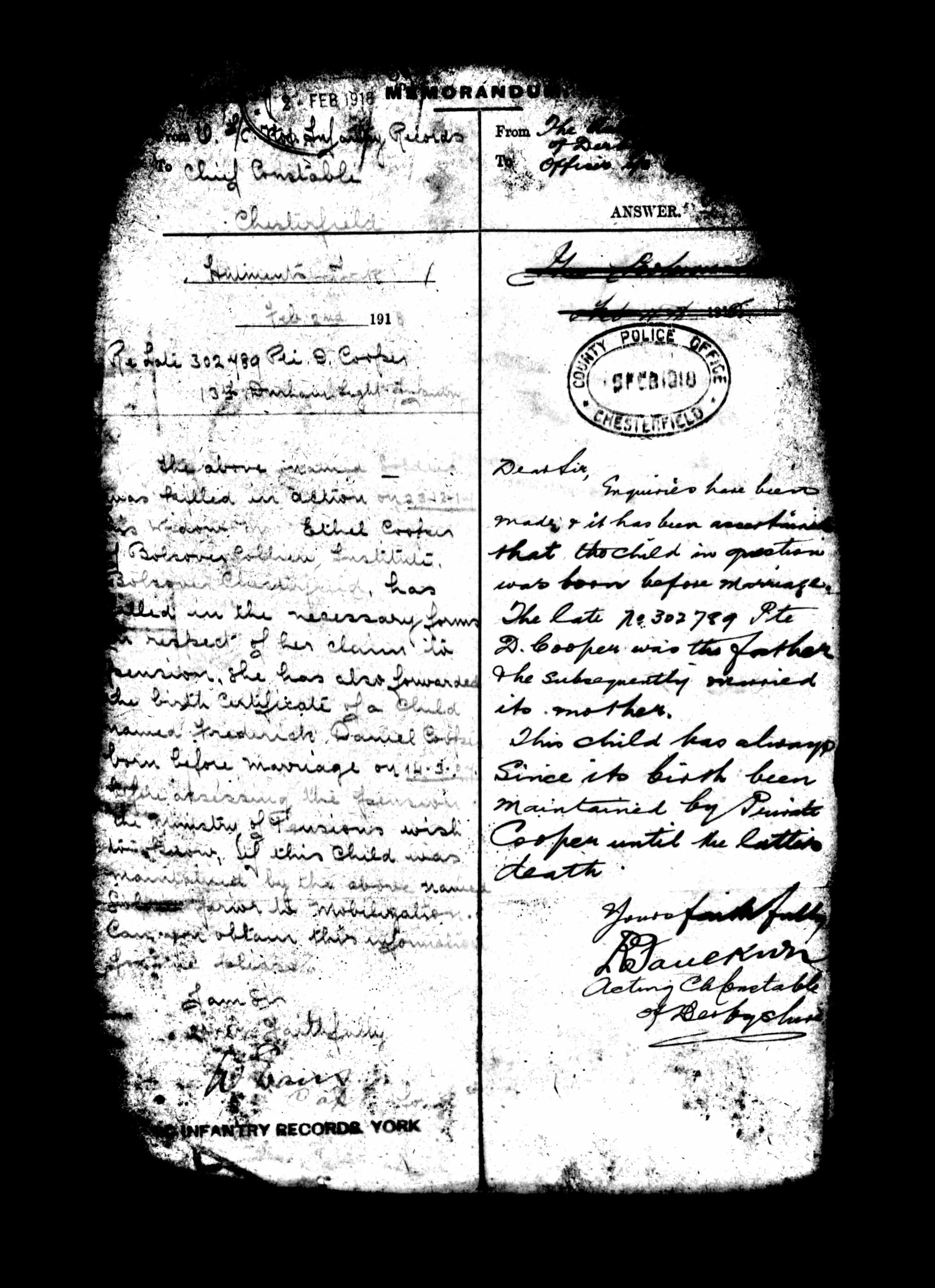 On 9th May 1918 there is an instruction that any of Daniel's personal effects should be returned to Ethel at her address in Bolsover, Chesterfield.
On 17th May 1918 the army returned Daniel's personal possessions to Ethel. The possessions are listed as letters, coins, gold ring, cigarette lighter and scissors.
On July 5 th 1818 Ethel is sent a notice that she is to receive a pesnion for herself and two dependent children of 25s 5d per week beginning from 15th July 1918.
On 29th July 1919 the Infantry Records office in York writes to Ethel to inform her that Daniel (mistakenly called David, although with correct serial number) has been exhumed and will receive a proper burial at Giavera British Cemetry, 6 miles South West of Conagliano, Italy.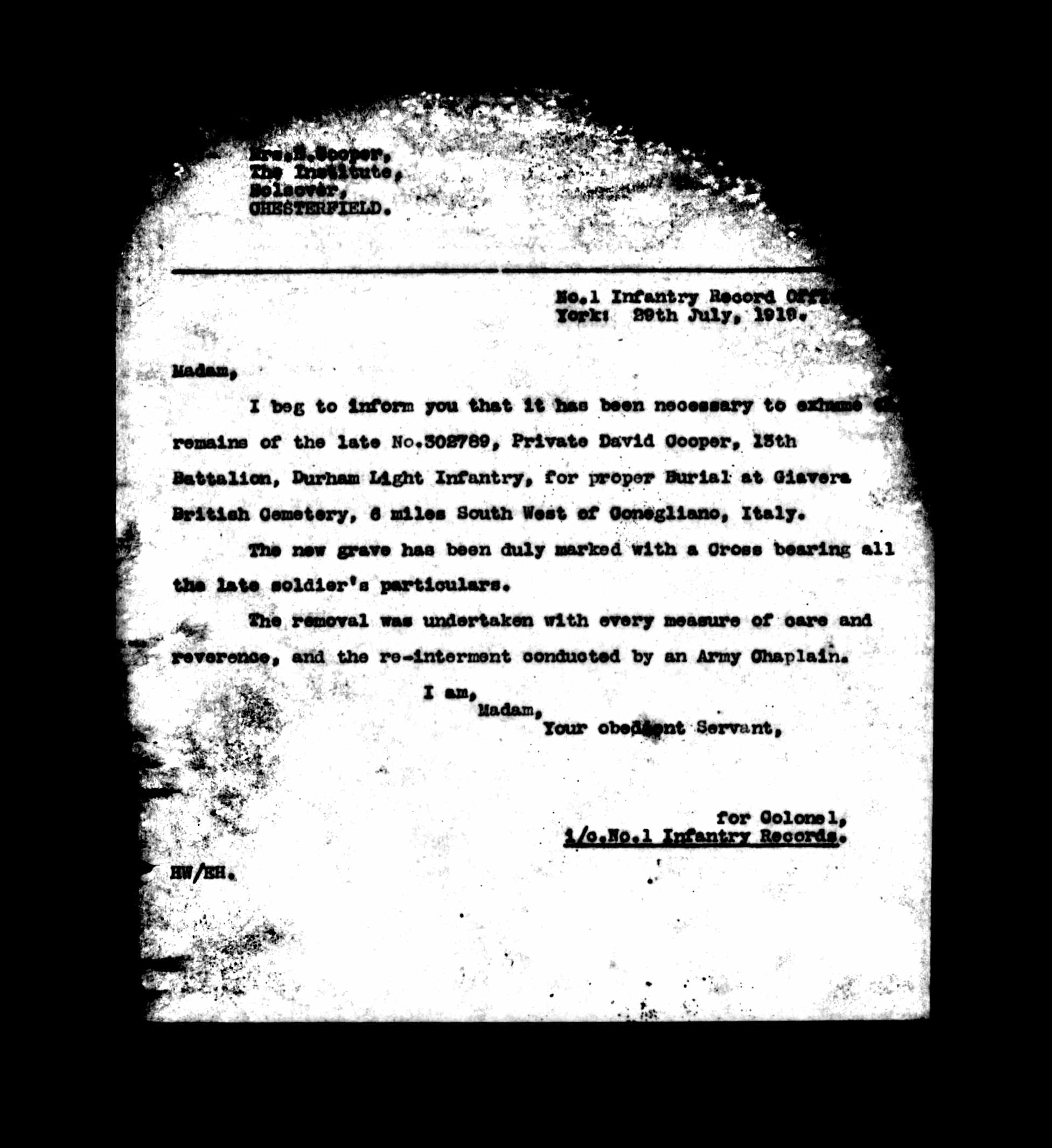 A family member's record from Ancestry, referencing Find a Grave as the source, gives Daniel's date of death as 23 Dec 1917, with burial at Provincia di Treviso, Veneto, Italy, Plot 1. Row. c. Grave 8.
From time to time throughout the transcriptions of his service records Daniel is as incorrectly recorded as David (crossed out and corrected; this is almost certainly transcription from handwriting which sometimes made Daniel look as though it might be David). The service number however is consistent so there is no doubt that the original related to Daniel.
An Ethel Cooper died in 1918 aged 34 - this may or may not be Daniel's widow as there was also an Ethel Cooper born and raised in the same area. If this is the death of Daniel's widow then she would not have received the letter about the reburial.
In September 1919 a further document recording the next of kin of Daniel (Pte Daniel Cooper, 302789) confirms his family relationship with Elizabeth Cooper (mother) living at the Alms House, Newcastle, Staffs, Job Cooper (full brother), age 30 living at Bethesda Street, Hanley, Stoke on Trent and Mary Cheshire (full sister) age 42 living at 49 Greatbatch Avenue, Penkhull, Stoke-on-Trent. For both father and wife it states "none" indicating they have died, which is consistent with - but not final confirmation of - the Ethel Cooper who died in 1918 aged 34 being Daniel's wife.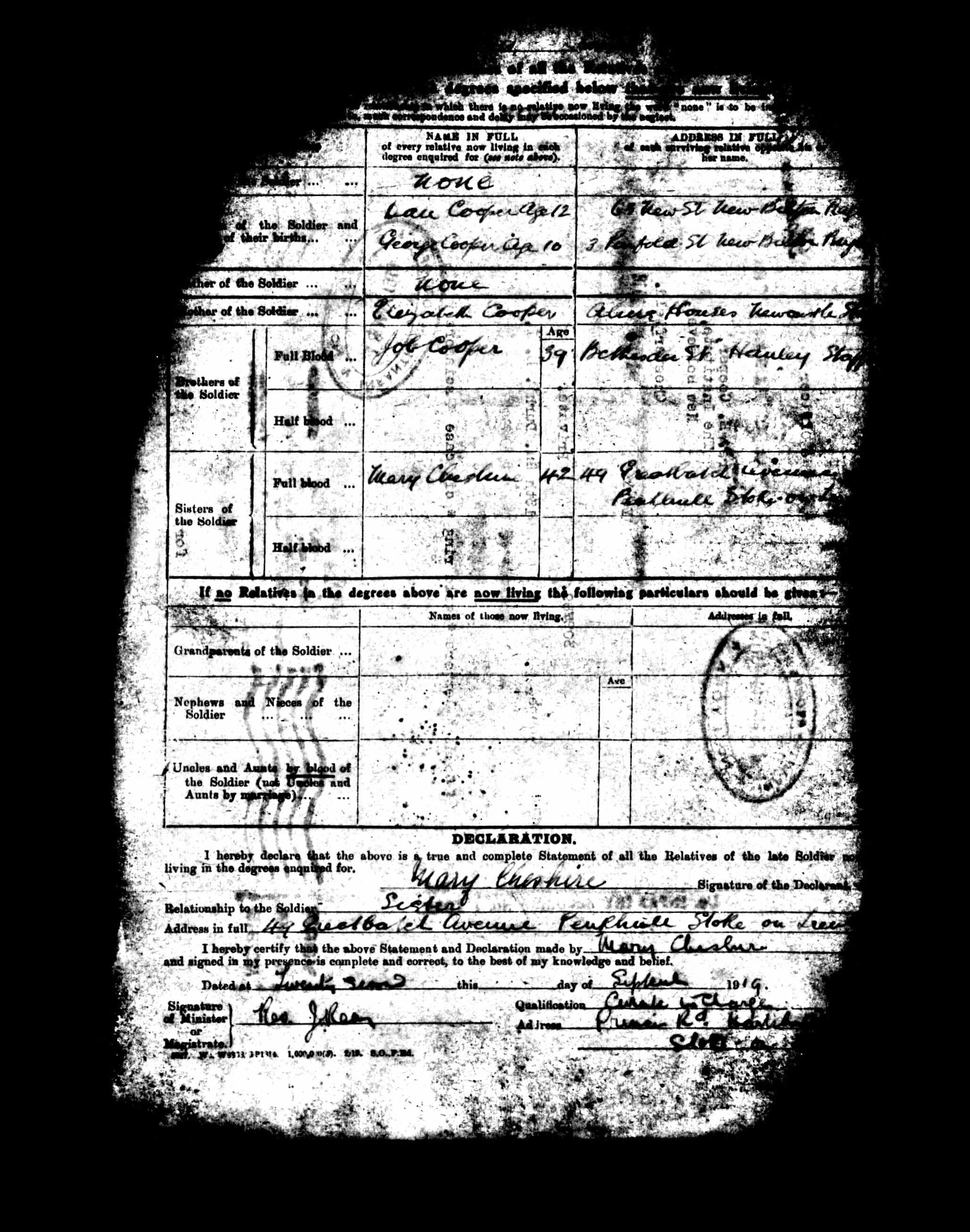 The same document also shows that Daniel's children are living separately in Rugby, presumably with relatives of their mother: Daniel, now aged 12 at 63 New Street, New Belton, Rugby and George, aged 10 at 3 Pinfold Street, New Belton, Rugby.
It was signed by Mary Cheshire on 22nd September 1919 and witnessed by the curate from Hartshill Chapel, Princes Road.
On 15th December 1919 there is an entry in the militay record instructing that any further effects of Daniel should be sent to George Cooper at 3 Pinfold Street, however, the entry is further stamped By Infantry Records York,with date 29 Dec 1919 declaring that there are "No Effects".
A memorial scroll was issued to Daniel's sons and received and signed for on 14th May 1920 by D. Cooper (assume Frederick Daniel Cooper).
Daniel's son Frederic Daniel died in 1995 and his other son George in 1987. Frederic married and had children but I have found no record that George ever married or any children.
By co-incidence I pieced together this information about Daniel on 23rd December 2018, exactly 101 years after his death. I called my mother to let her know I'd finally built an outline of his history and to tell her I'd discovered that he had a wife and children. I'd assumed that like me she would have heard of her great-uncle Daniel who was killed in action, but it was all new to her.