Most of my focus when I started reviving my garden was on restoring the vegetable plot and bringing the greenhouse back into service but the desire to add a splash of spring colour to my flower border nagged at the back of my head and I thought a few patches of tulips and and asortment of alium bulbs would do the trick, or at least get me started. Unfortunatley the border was so heavily mulched with gravel and so overgrown with later summer perenials that it had was not the quick fix I had hoped for and in the first year most of the bulbs ended up in posts.
The original border had been planted years ago under the supervision of my mother in her opinion I had let it fall into disrepair, but I thought it looked good, at least in mid to late Summer. Yes, some of the plants had become invasive and I could have done more to thin them out, others were struggling to see the light of day as they lost the competition for light. I had been doing minimal maintenace, clearing them some space and pulling out the couch grass, but I had never completely manage to clear the grass and the garden retained it's shaggy look. Self set flowers my mum described as weeds took pride of place. I liked them and they didn't take any looking after so they were welcome to stay.
Why pay for seeds when plants will move in for free; yellow poppies in particular spring up between the paving stones and in the gravel bed every year. The biggest problem was the aggressive sweet cicely which I did have to dig up every year. It shouldn't really have been in the border but it has established itself, spreading across the whole grarden from a small clump my grandmother gave to me over 20 years ago, swamping all in its way.
When I retired my mum gave me a box of flower seeds. They were the remains of packets she had collected from various gardening magazines over the previous year. "Have these before they go out of date", she said, "I've got no more room in my garden." I tried several and some - but not all - came up. Unfortunately the labels came adrift from the pots somewhere in the process before the seedlings were ready to plant out and being completely hopeless idenitfying flowering plants I simply planted them where there was space. Trial and error process. Nature seems to be random, so why not me. .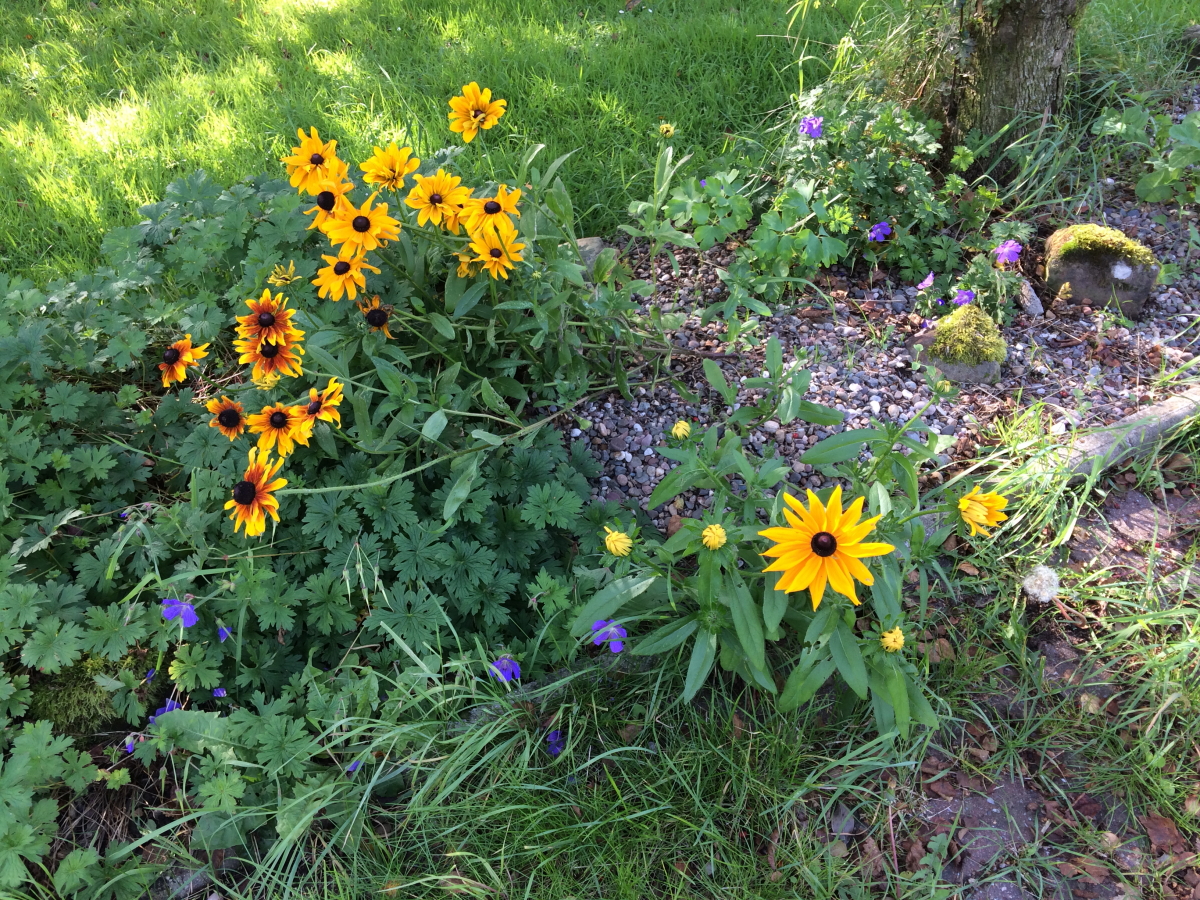 In my second year I continued in my attempt to cheer up the garden with some colour and planted almost 100 bulbs: some in tubs others in the border and some among the trees. The majority are tulips, alliums and gladioli. I didn't have a plan, and there is no grand design. My border is inches deep in gravel which for years was used as a mulch, and much of it has very shallow soil or is underlaid with virtually impenetrable membrane. It certainly stops things growing up through it but grass, docks and sweet cicely all manage to put roots through it from above. I simply planted the bulbs where I could find sufficient depth of soil. All I wanted was a splash of colour.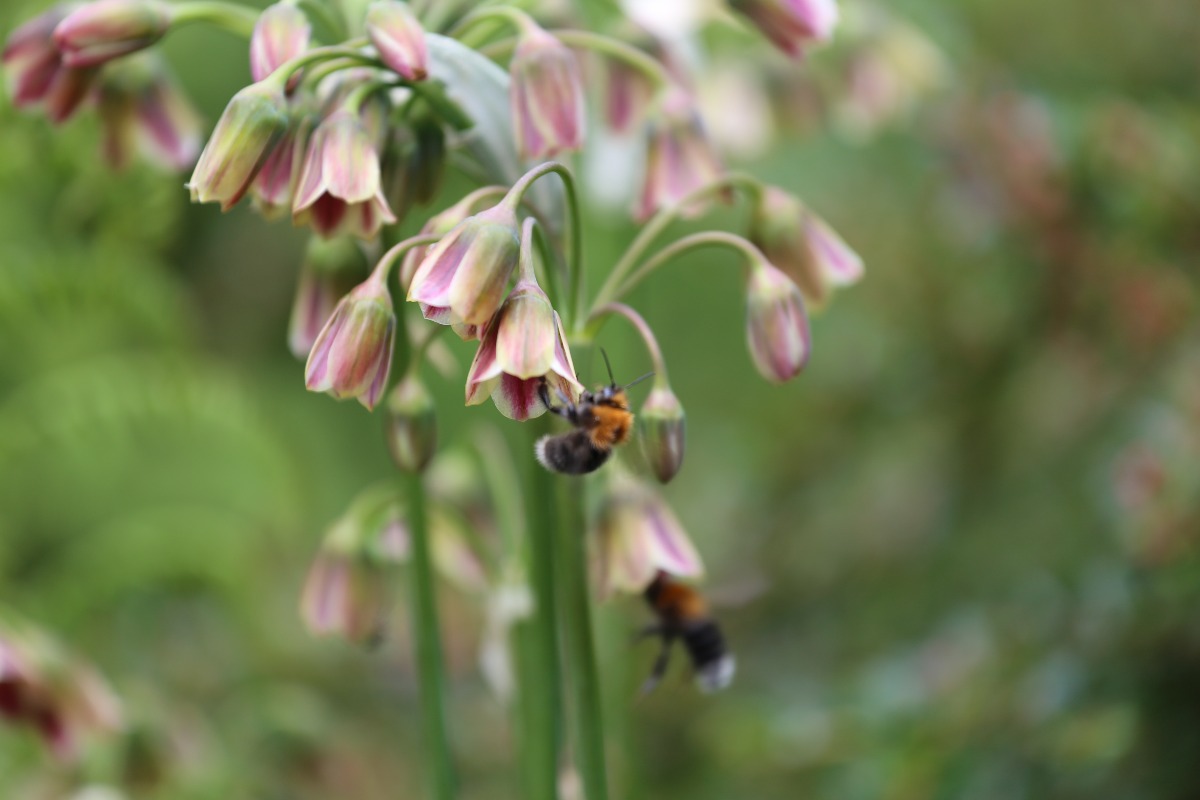 Besides the bulbs I continued trying to grow ornamental flowering plants from the seeds given to me by my mother. Although she topped up my collection each year I still had many that almost beyond their use by date, so I am not sure whether all the failures are down to my inability or the quality of the seed. My success was varied - from no Cosmos seedlings to dozens of Antirrhinums which I planted out in pots, tubs and available spaces. Not only did they flower that first year of sowing them, they have continued to flower every year since. Now confident with antirrhinums I subsequently sowed and succeeded with a different colour variety.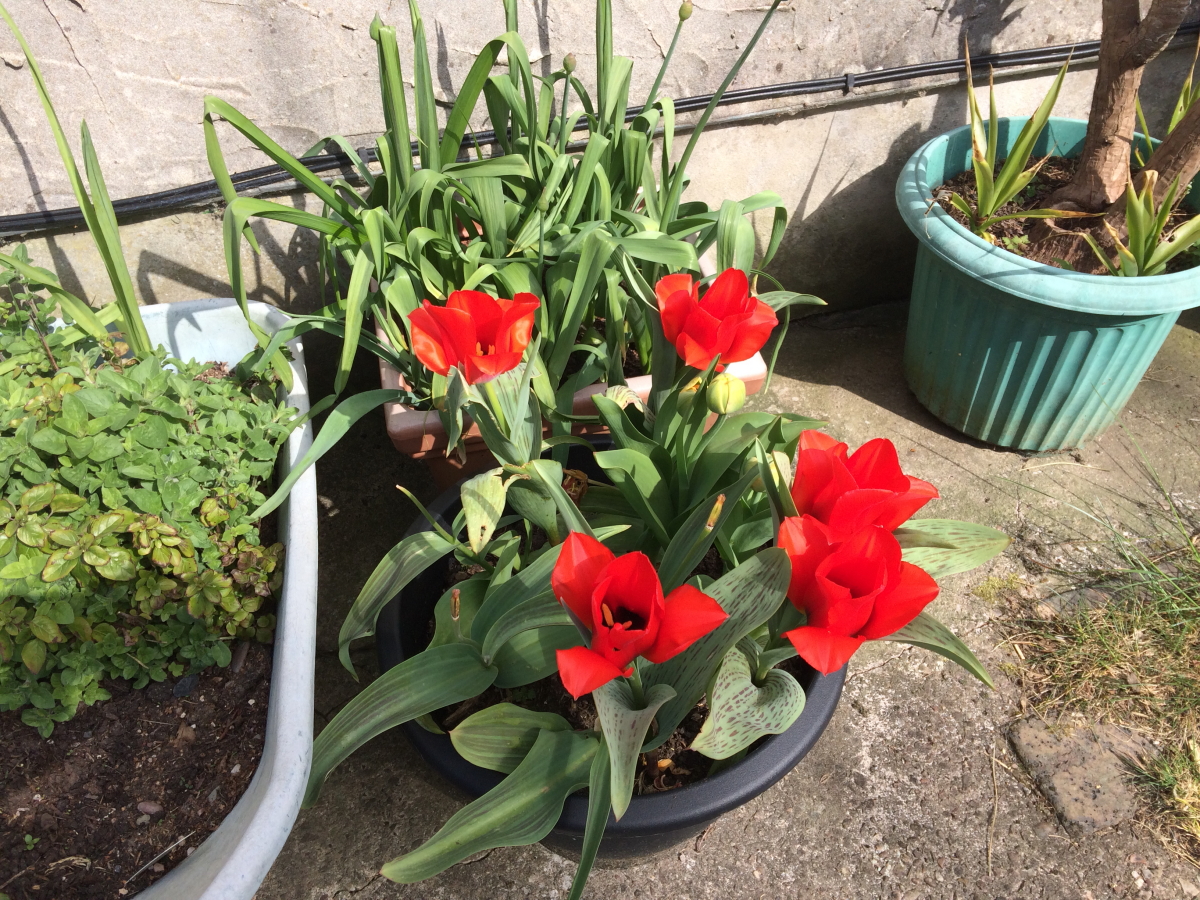 After two or three seasons digging out the sweet cicely I am at last getting it under control, but it is still an ongoing battle.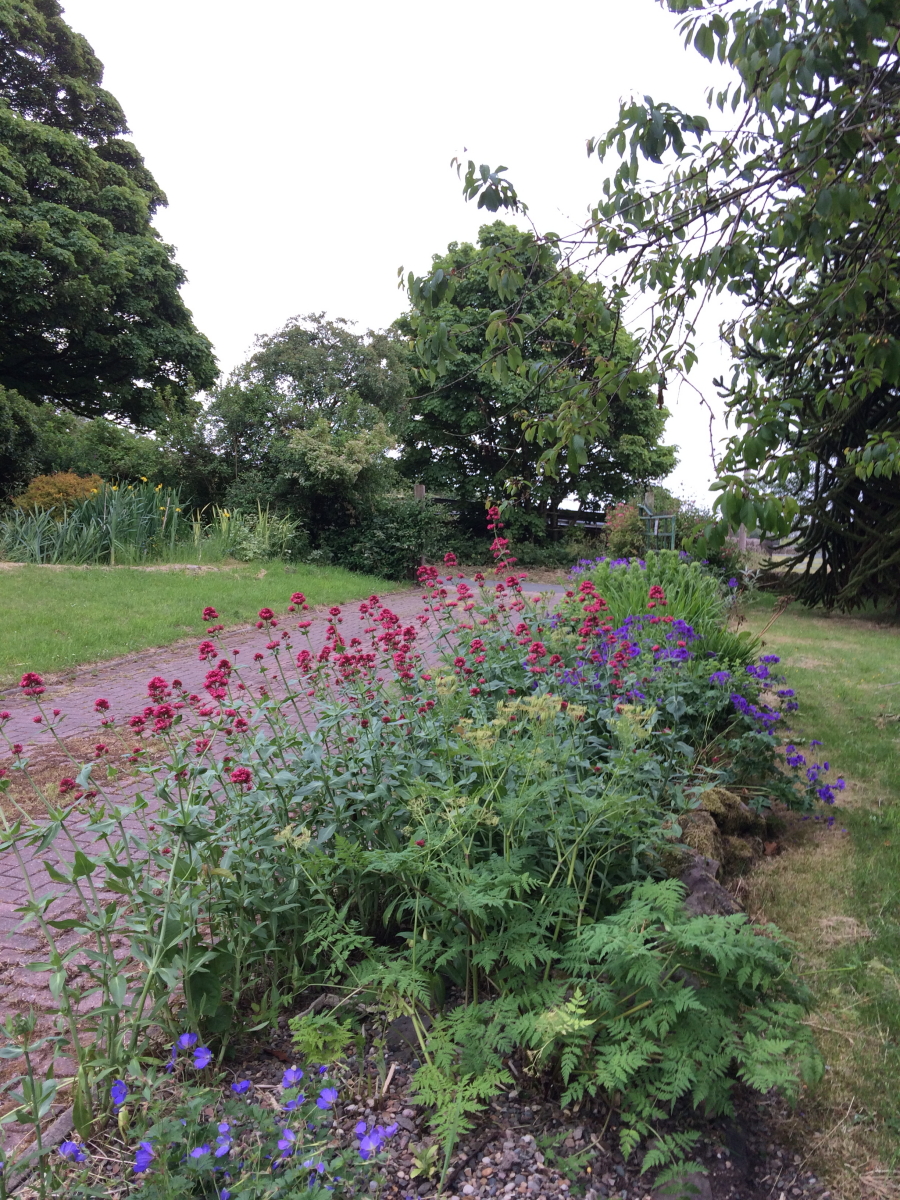 Other flowering plants which I had forgotten I had have also reappeared, presumably as a result of the weeding and clearing of plants which had spread and taken over like ground cover. This is one. How could I have missed it?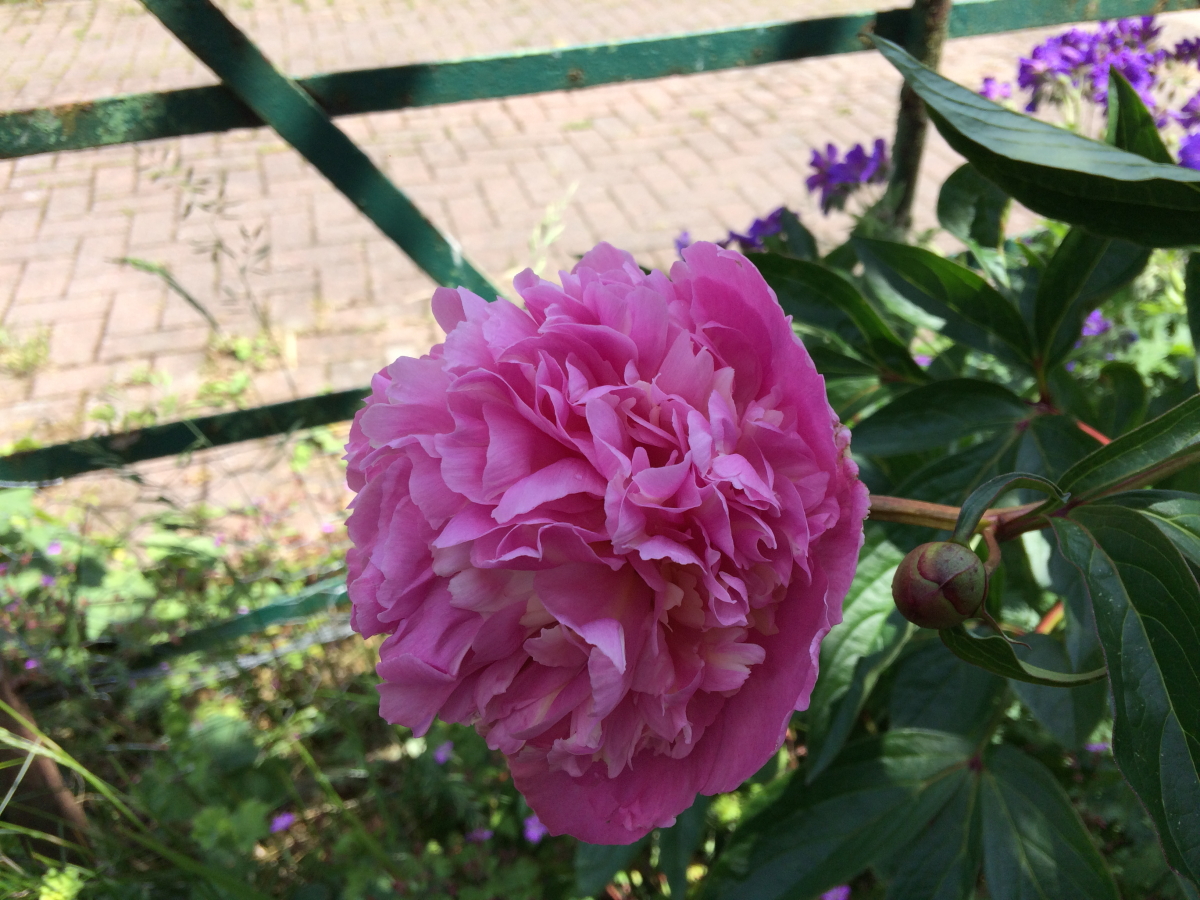 I want more space for ornamental flowers but the current garden design doesn't provide many places. There is only one narrow border and many spots are too shaded, so for now I have been using mainly pots, even for a small sowing of sweet peas. I had intended to replace a trellis and sow a long row, but weather and other events got in the way. Next year maybe. There is still more work to do.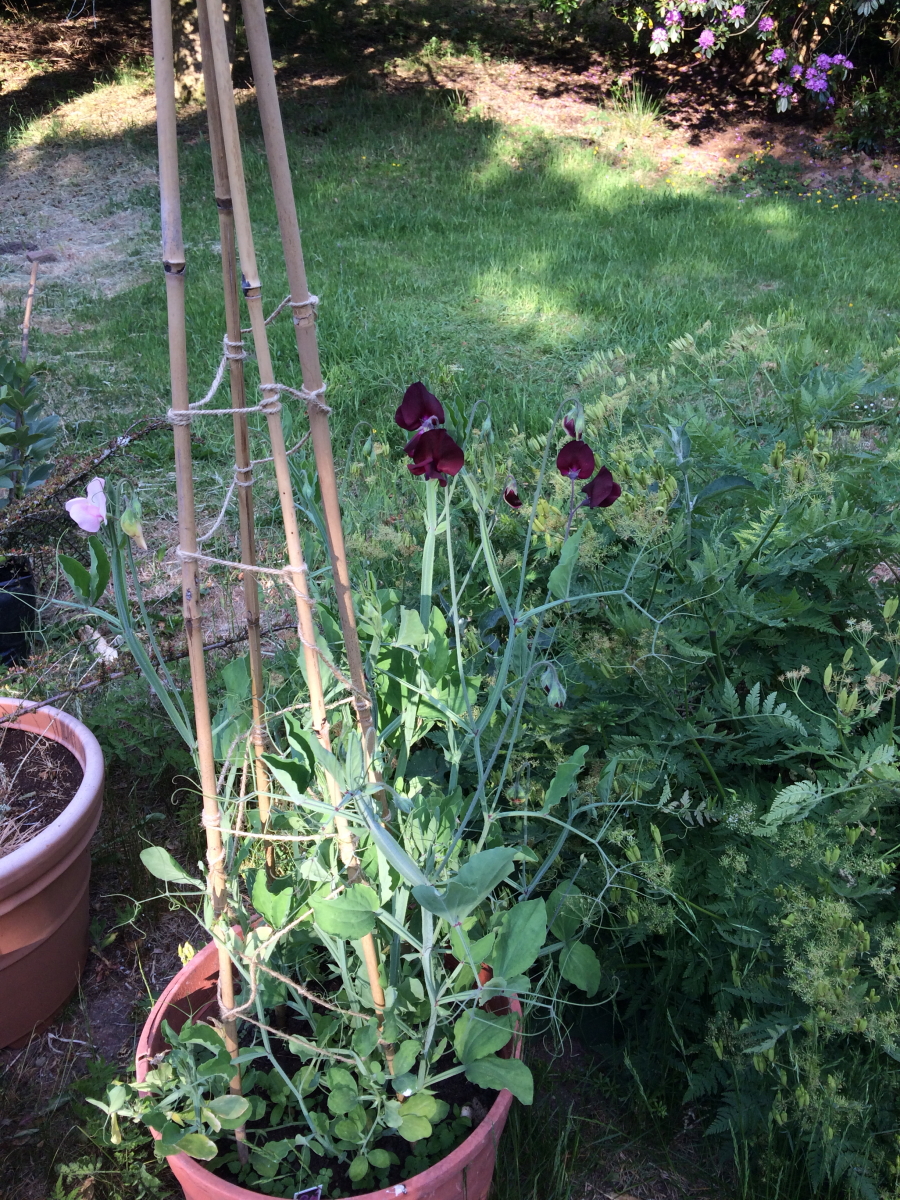 Restoring our neglected garden has involved a lot of hard, strenuous work - heaving, dragging, digging, chopping and building - but one of the most pleasing and satisfying improvements was possibly the easiest and simplest of all. The transformation of an awkward eyesore into a display of summer flowers provided the best splash of colour anywhere in our garden.
After clearing an area for the base of our poly-tunnel we were left with a large, unsightly "swiss roll" of torn, heavy duty ground cover membrane filled with the soil and weeds that had grown over it.
The roll lay down the length of tunnel and was impossible to move by hand. It had been back breaking work rolling it there in the first place and it was going nowhere.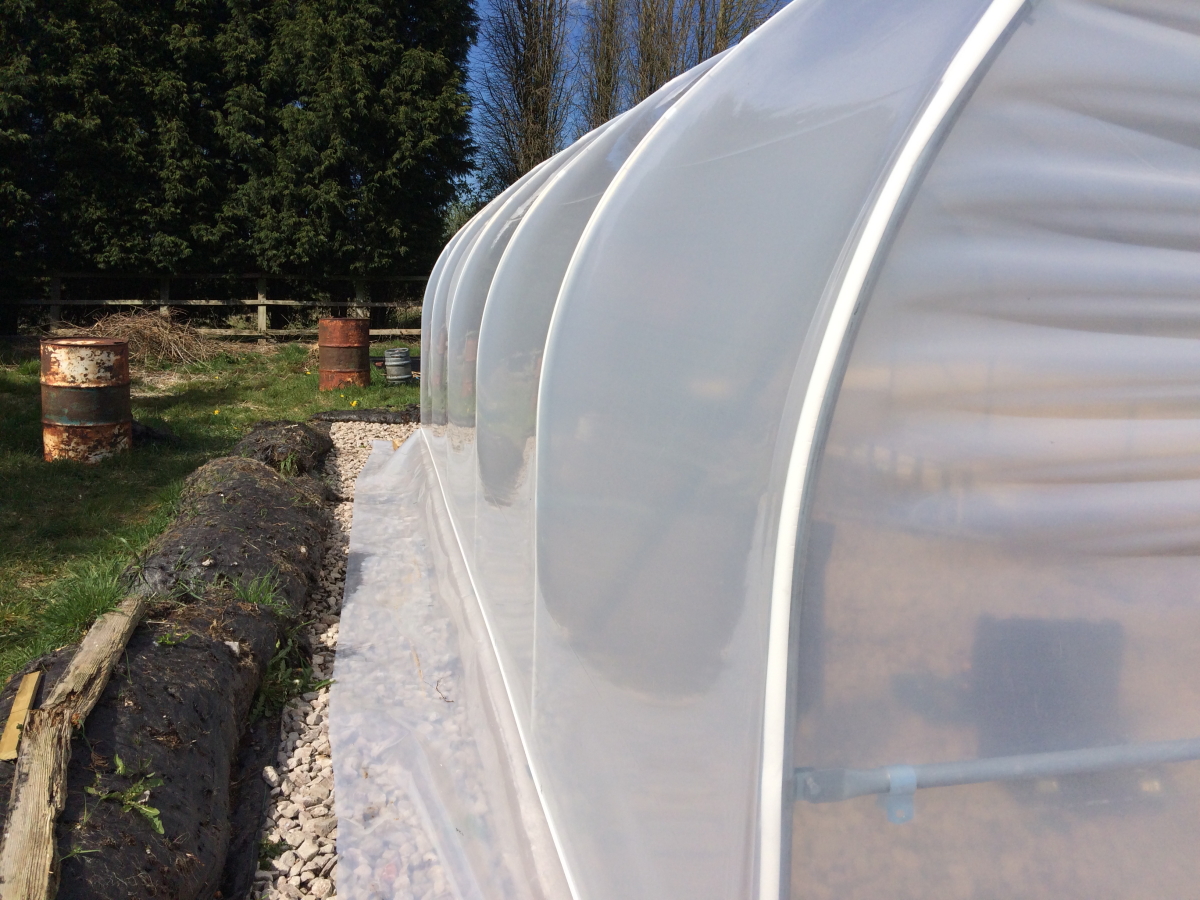 So what to do? Make it into a feature. Better still, assign it as a project for the part time Student when she emerged from her two weeks of quarantine after returning from the US.
Armed with a large knife, several packs of flower seeds and a watering can she set to work cutting holes through the membrane, pulling out the bramble and other roots that still lurked she set to work. After several hours of work spread over two or three days it was done. Now all that was needed was to keep it watered and wait.
Three weeks later shoots began to emerge, but were they her flowers or were they weeds?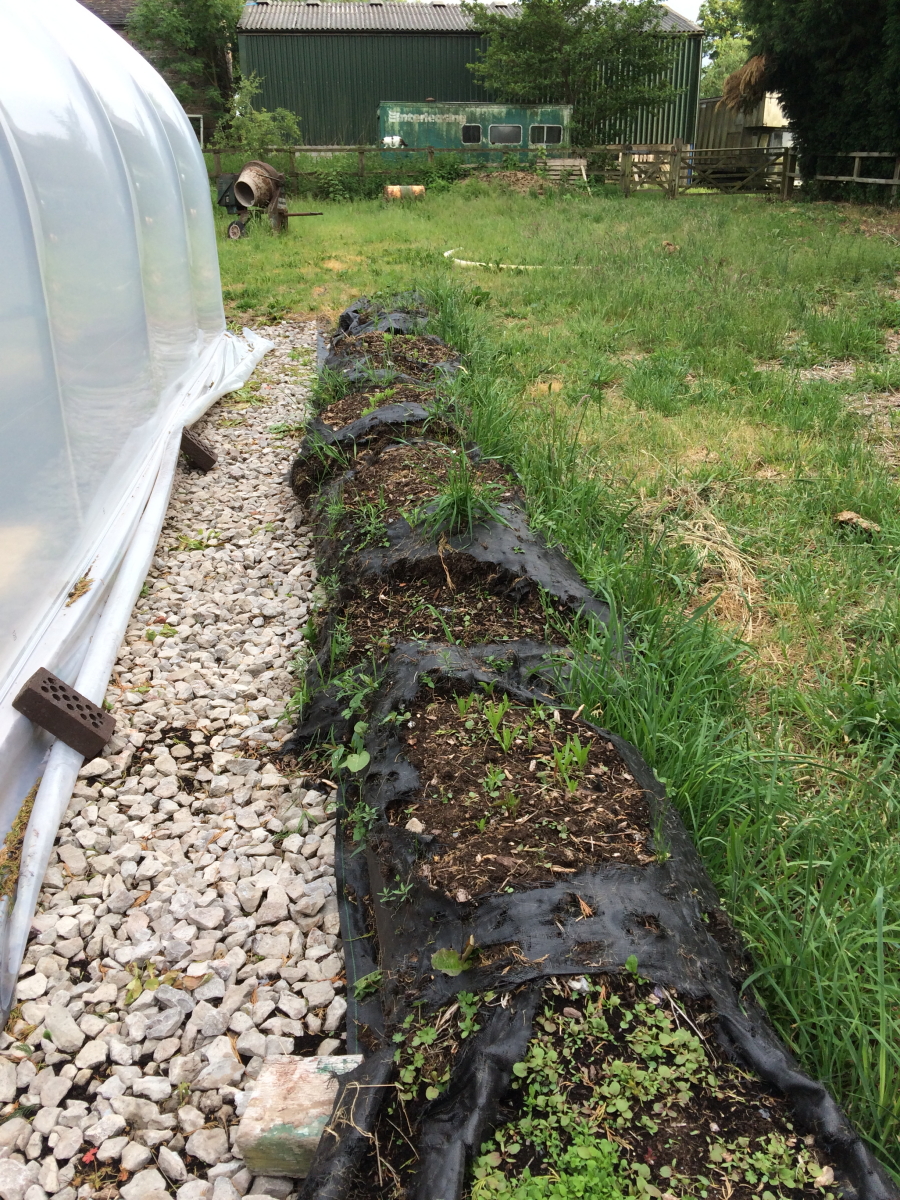 She decided to wait and see how they developed.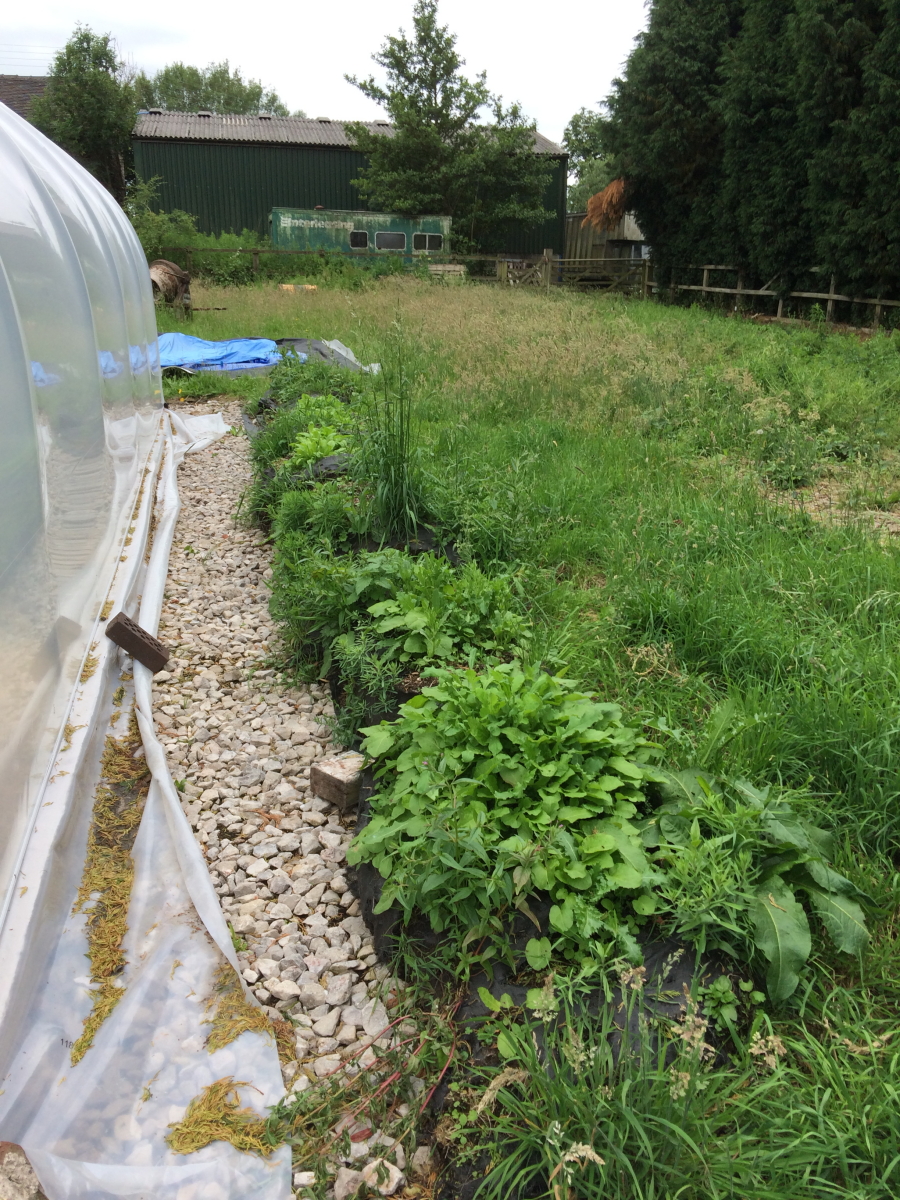 Mm ... quite a lot of weeds, but maybe some were wild flowers - they could stay. Better wait a bit longer and in the meantime rely on the gardening fairies to pull up the nettles and docks and water it in the dry spells. By the end of July there was quite a good display, the fairies had done a good job, and by early August it was in full bloom. The ugly eyesore had become a colourful flower garden. How easy was that?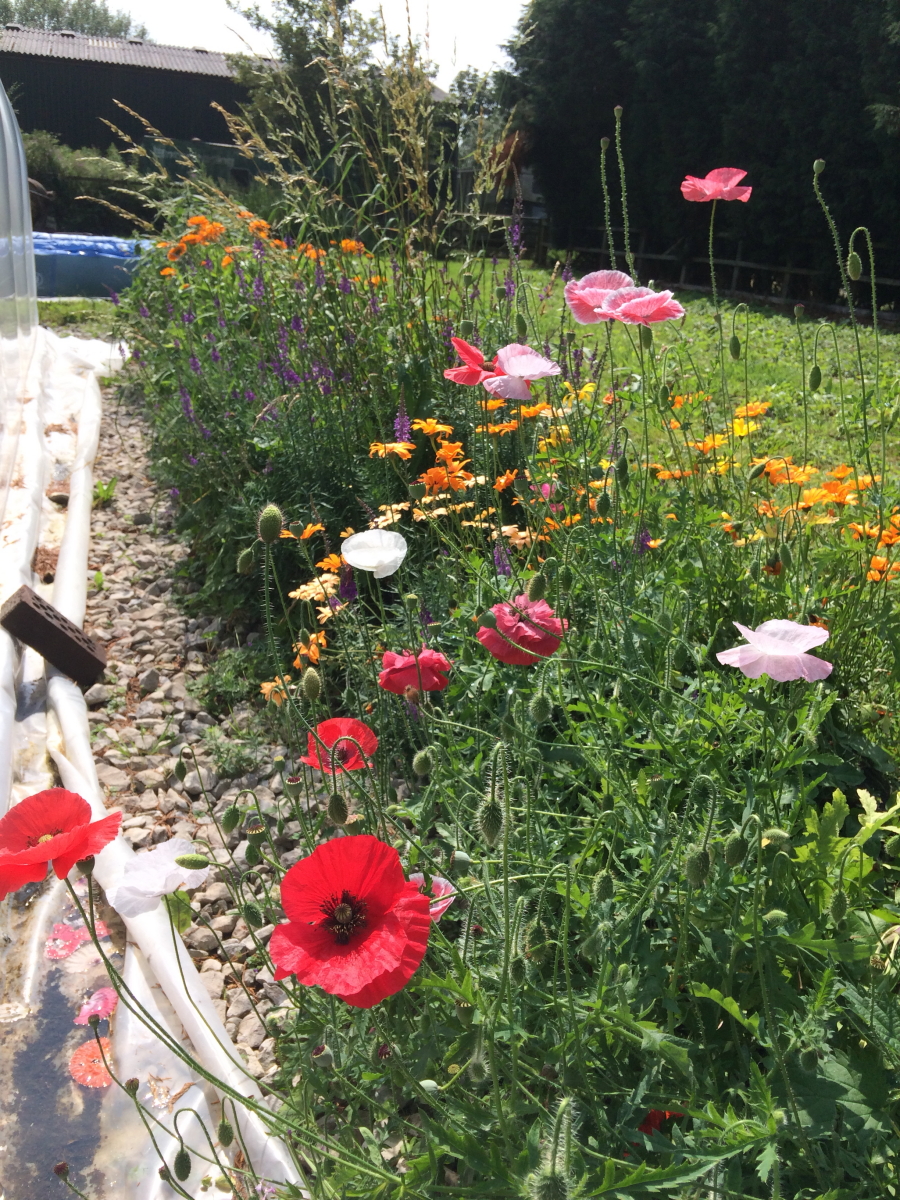 Ornamental plants were somewhat of an after thought in my garden when it cames to putting in the effort and the webmaster believes that if you don't eat it then it isn't worth growing, but I think he secretly likes the colours and the insects the decorative plants attract. But with a small amouunt of effort we have added a lot of colour. And I intend to keep going. The antirrhinums really encouraged me ...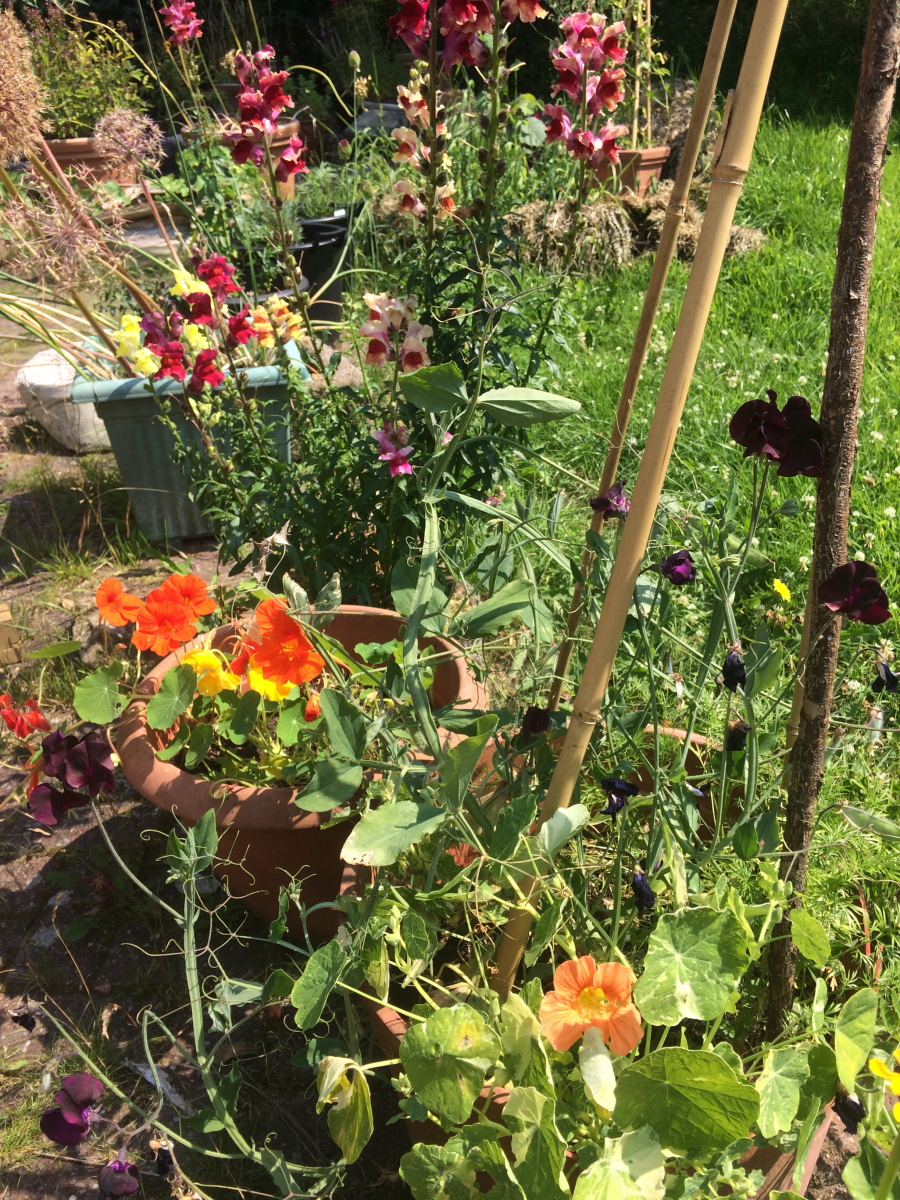 .. and nd then there are the alliums. The Webmaster likes them. He can pretend they are onions! I planted the bulbs layering them in pots with tulips. The result: early colour from the tulips followed by a beautiful display of alliums from late spring through to mid summer, finishing with a spectacular collection of seed heads which we cut and use as indoor decorations over winter.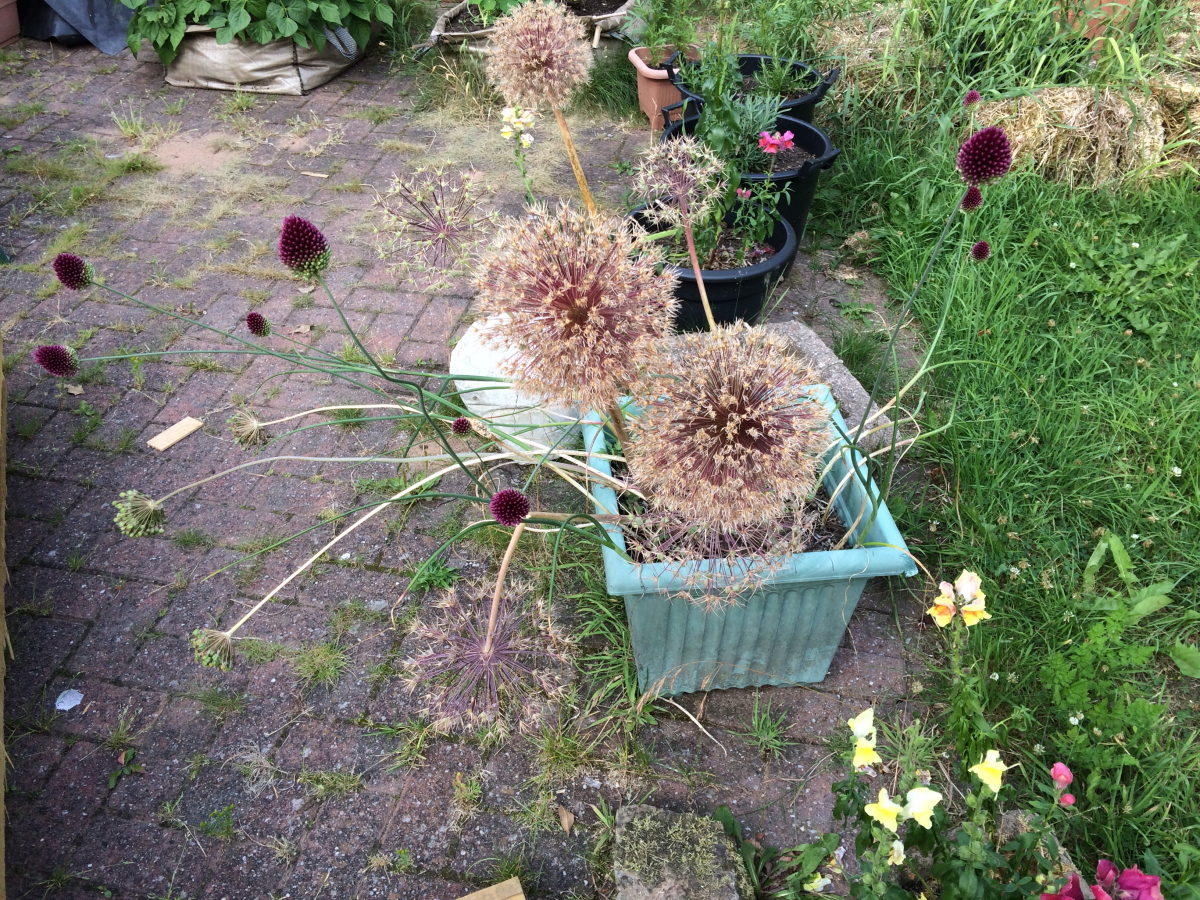 The major project in our second year was restoring a section of the gravel garden which had also become overgrown with sweet cicely. It was a major excavation job digging out the roots but the result is quite pleasing, planted with a collection of white phlox and assorted pinks I bought as small plants. One day I'll manage to learn the names of the plants I select from on-line catalogues.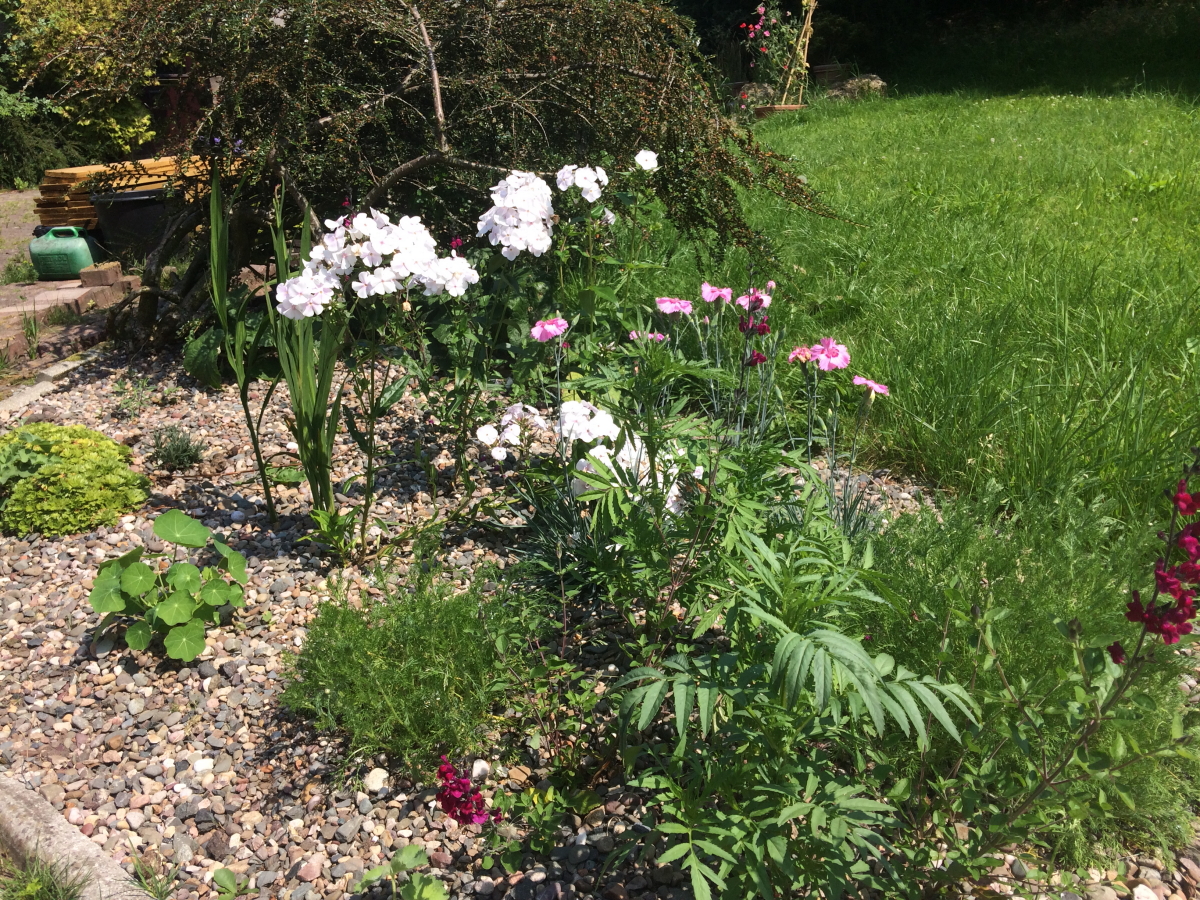 In other parts of the garden the herbs also add to the fragrance and colour. Chamomile, borage, sage, chives and thyme are particularly attractive and the flowering coriander adds texture.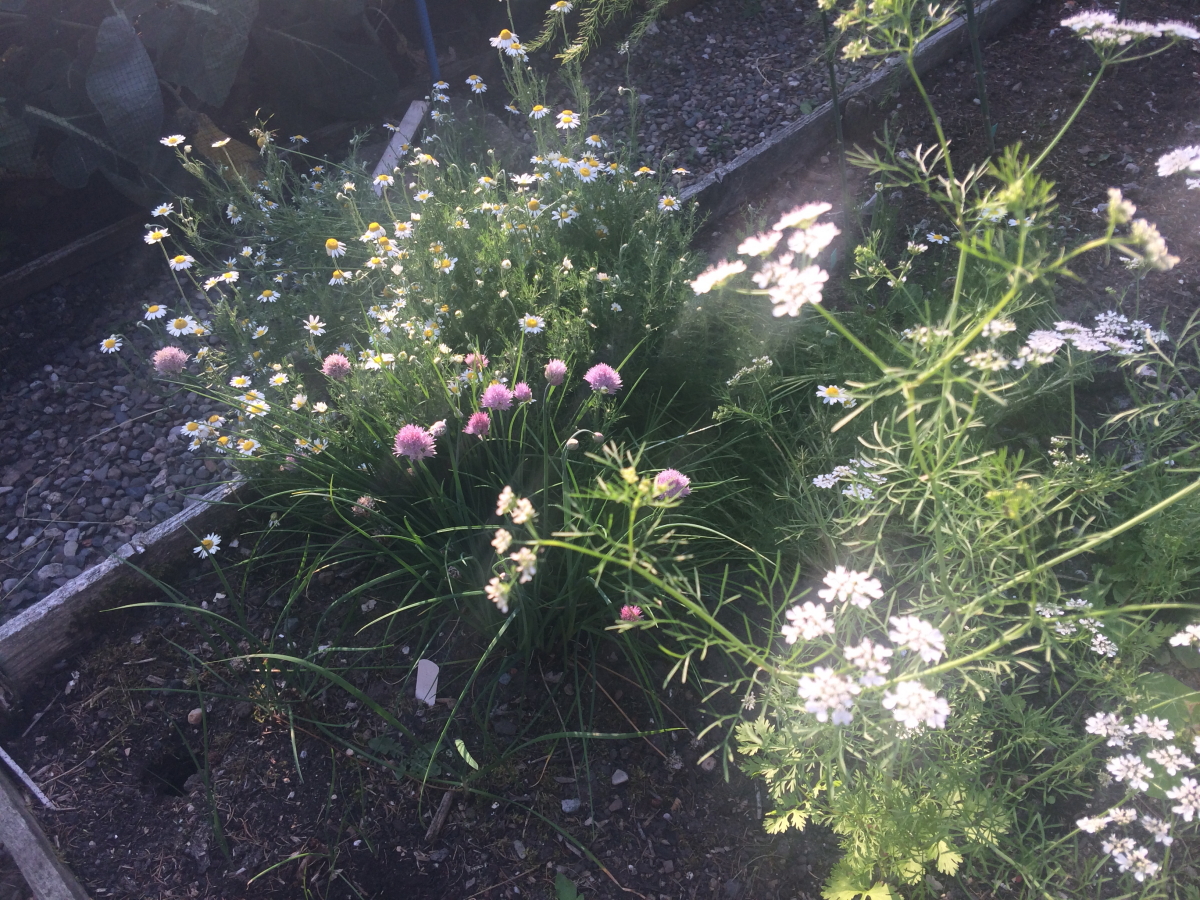 One day the Webmaster will have to agree, its not just about growing food, the ornamental and decorative plants have their place too.