Diary of garden related activities, notes and observations
January
1st
Personal circumstances delayed many late Autum and early Winter gardening tasks, not least cleaning and tidying the greenhouse. Then came the freezing cold and prolonged sub zero temperatures, then the seemingly endless drizzle. But 2023 was off to a bright start, not too cold and some sunshine! Hurrah! A good day for doing the greenhouse but the webmaster had other ideas and used the pressure washer to clean daughter's van which she is trying to sell, her car which under the grime really is a nice blue and his car which is still relatively new. The novelty of keeping it clean will wear off soon. I cut down the raspberry canes and raked the gravel paths between the veg beds. Keeping fingers crossed for another nice day tomorrow to do the green house.
2nd
Was in luck. Today was not quite so warm but dry enough so, amid much moaning and groaning from the webmaster, we cleaned the greenhouse and surveyed what repairs would be necessary. A few missing glazing clips were easily replaced, but noted for later: one pane of glass to replace a boarded up window (been like that for years) and some decking boards to replace the rotten base frame boards. Same as last year. Must get round to it this time.
3rd
Weather back to dreary drizzle. Washed small pots, took the heated propagator out of storage and tested it and its grow lights. All seem to be working. Tomorrow will sow chilli seeds and maybe some aubergines. Went to B&Q and bought a cheap spade.
4th
Sorted out seed boxes. Sowed chilli seeds: 4 x Bhut Jolokia, 4 x Cayenne and 4 x Fuego. Each in separate 2 inch pot, in heated propagator with grow lights. Temperature 25-30C. Aubergine seed tomorrow. Flood from washing machine waste pipe interrupted further sowing today.
5th
Sowed aubergine Black Beauty seeds and placed in propagator with the chilli seeds, so it maybe slightly too warm for them. Weather is again wet drizzle which together with feeling a bit poorly put me off working outdoors. I still need to harvest the last of the leeks, swedes and celariac from last season, plus 2nd main crop potatoes. I've got some good recipes lined up. Cauliflowers Clapton, started outside late last summer and moved into polytunnel over winter are also almost ready to harvest.
6th
Another wet day. Priority in the dry spell was taking the dogs out - they didn't get a walk yesterday. Finished off washing pots and sprayers and salvaging capillary matting that had been in the greenhouse when we emptied it out to clean at the beginning of the week. Also harvested leeks. Some were already past it but half a row still look ok.
7th
Lazy day. Only gardening related task was a 20 minute job unpacking and constructing a set of greenhouse shelving I bough in a sale a couple of months ago. Now the greenhouse has been cleaned it can be put to use.
8th
More rainy weather. Day off.
9th
Harvested two of the Clapton variety cauliflowers as baby size. These were the two most affected by the frost with most leaves frost burned and blackened, despite being inside the poly tunnel. They were a little soft but OK when cooked. The variety Triomphant withstood the intensely cold period with temperatures down to -8C inside much better. Also those in the garden bed also look to have survived mostly intact.
10th
Two of the cayenne and one of the fuego chillis have germinated. Busy on none gardening related activities most of the day. Has intend to sow some oriental cabbages for growing in the greenhouse next. Will postpone until tomorrow.
11th
Cleaned out two propagators I found when clearing out my mother's gardening shed. One was heated and I thought it would provide the "gentle heat" for the oriental veg seeds to germinate in the poly tunel. Unfortunately when I tested it it doesn't heat, but it will still be a good propagator. It's a nice size for my new shelves with grow lights, but I have held off sowing the seeds. There are now three seedlings of each of the cayenne and fuego chilli and the black beauty aubergine. No sign yet of any Bhut Jolokia. I've not grown them before but I've read they can take five or six weeks to germinate so still a long time to go.
12th
At last! A sufficiently dry to do some outside work. Harvested last of the swedes and most of the celeriac and hoed the beds. Will mulch and cover tomorrow (weather permitting) and leave them until spring. Fixed some of the hoops and supports that had come adrift in the recent strong winds and finally removed some of the butterfly netting which I'd left over the now empty cabbage patch. Weeded the onion and garlic patches and put layer of leaves on the compost heap.
13th
The fourth Black Beauty aubergine has germinated. Ground still too sodden to wheel barrows of muck from the heap to the beds. Mulching will have to wait.
Some of the primulas and primroses I planted at the end of 2021 have spread and are starting to flower. Those I planted at the end of last year have survived the frost and one or two are showing flower buds. I'm worried they are a little early and the frost expected next week will damage the flowers.
14th
The fourth cayenne chill has germinated.
15th
Sowed three trays of oriental vegetables: pak choi Yuushou, spinach Hohei and mizuna Waldo
16th
Cold but sunny day. The ground was much firmer and I finally managed to finish mulching the top vegetable beds with rotted horse manure. It was frosting over within hours so I have left it uncovered for now to let the frost help break it down. While this cold weather lasts the weed seeds in it are unlikely to germinated. Harvested three more of the Clapton cauliflowers. Covered over the rest with fleece as the temperature is going below zero even in the poly tunel.
18th
Sowed 3 xLemon drop, 3 x Holy Peak and 3x Srivi Biber chillis in propagator.
21st
Sowed 4 x aubergine Money Maker
23rd
Set up new rack with grow lights and top tier with heat mat set at approximately 20C. Transferred most advanced seedlings from propagator on to it. All but one of the Bhut Jolokia have now germinated and uncurled, one is showing signs of having germinated but not developing.
25th
26th
The recently sown chillis, Lemon Drop and Holy Peak are starting to show signs of germinating.
27th
Put the extra early Cassablanca and early Charlotte seed potatoes to chit. Other two bags are main crop and have been left, open in light, cool, airy place. two of the Lemon drop and two of the holy peak chillis have germinated.
29th
Sown a few tomatoes, 4x Big Daddy and 2 each of Mountain magic and flamingo, using up left over seeds from last year. Placed on heat map under propagator lid.
30th
Harvested remaining swedes and cleared out the bef of unharvested cellery and cellariac. Managed to salvage a couple of celariac. There were also two or three red cabbages, surprisingly one was still in good condition.
31st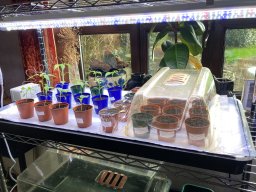 Sown 4 x California red sweet peppers and 4 Gaint Bell Capsicums, placed on heat map covered with cling film. Earlier sowings coming along nicely.
February
6th
Several of the tomatoes have germinated. Two of the Big Daddies and two of the Flamingos.
9th
Sown more Aubergine seeds, this time 4 Money Maker. Also sweet pepper Bullhorn (4), hot pepper mix and a small tray of tomato San Marzano. All in propagator at 21C
13th
In the greenhouse sowing broccoli (calabrese) Aquiles - took in doors to germinate on window sill, cauliflower Snow Crown, raddish Escala and Brussel sprout Maximus. The oriental veg planted on 15th January have germinated.
13th
Sown small tray of basil, a few pots of rosemary and a small tray of corriander cilantro) all in propagator. Three of the San Marzano tomatoes have already germinated. Moved remaining chillis onto rack on cooler heat mat but still under lights. Abandoned three pots that still showed no sign of germination.
16th
Harvested the Autumn planted potatoes, Nicola. Good quality but fairly small size. Most beds now empty and mulched with rotted horse manure. Shallots planted last October had been doing well but now seem to have died back - maybe the frost has got them. Onions (Shakespeare) planted at the same time seem to be surviving, as are most of the garlics.
19th
Pruned the apple and pear trees. Most are very old and were neglected for years but they are still producing nice fruit. It's taken a few years but they are starting to take on better shape and most of the damaged bits have been removed. The younger trees are looking good too.
20th
Sowed two more small trays of tomato seeds, this time Mazkotka and Roma. Both from packets my mother received with her garden magazine subscriptions and gave to me a couple of years ago. Sadly she is no longer able to do her own gardening and we had to cancel her subscription. I miss her advice!
21st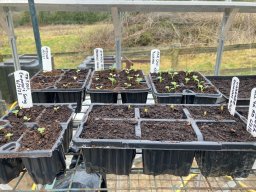 Seedlings in the greenhouse. Oriental veg and cabbage Duncan. No sign yet of Cauliflower All Year Round.
25th
Sowed a new batch of veg: cauliflower All Year Round and Clapton, cabbage Duncan. Also more aubergine, this time long thinner varieties Green Knight and Early Long Purple, plus a few more Bhut Jolokia and Srivi Biber chillis.